If shampoo is leaving your hair and scalp feeling dry or stripped, this gentle and all-natural DIY micellar water for hair can help. It replaces shampoo, leaving your tresses clean and soft without any harsh surfactants or suds. It can also be used as a clarifying treatment to gently remove buildup. Just pour, comb and rinse!
You are reading: Micellar water on hair | DIY Micellar Water for Hair – Cleanse Your Hair Without Shampoo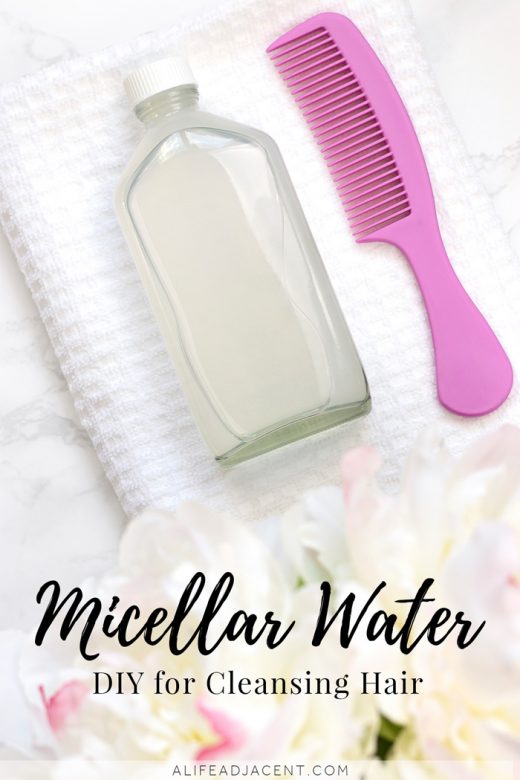 I'll try almost anything in the name of a good DIY beauty hack. This includes using micellar water instead of shampoo.
My love for micellar cleansers began with this blog post on DIY micellar water for skin, but I had no idea how useful they were for hair, too.
Yes, you read that right. Instead of lathering up with a natural shampoo, I've been pouring micellar water, which is typically used for skin care, on my scalp. And I love the results!
My buildup is gone, my scalp is calm, and my hair feels clean – all without the dryness that shampoo can cause.
Don't get me wrong. This isn't a "no poo" situation. I've already written about why the baking soda and vinegar craze is bad news for hair health.
And besides, I wanted my hair to actually feel… clean. (Sorry, no poo-ers.) This is different, and it works.
If you're looking to replace shampoo with a fast, gentle way to cleanse your hair, or if you're looking to get rid of buildup from silicones or pollution, you need this DIY micellar water for hair in your life!
It's a great way to give your hair a break without compromising on cleanliness.
And if you're intrigued by the idea but not inclined to DIY, I highly recommend this brand of natural micellar water. I've used it to wash my hair with great results.
What is micellar water?
In simple terms, micellar water is a cleanser that contains micelles suspended in a liquid solution. These micelles are magnets for dirt, oil, and other impurities, grabbing onto them so they can easily be washed away.
Micellar water is typically used as a gentle, rinse-free way to remove makeup and cleanse the skin, but it's equally useful for cleansing the hair. In this case, rinsing is required.
Micellar water in hair products
From this buildup-busting cleansing serum to this micellar shampoo, companies have been capitalizing on the micellar trend for a while now.
They're onto something! The same technology that's so gentle on the skin also works wonders for your hair. Micellar water leaves your tresses clean, but not stripped of their moisture.
There's even a micellar water-infused dry shampoo for those days when washing is not an option. If you'd like to make one at home, check out my micellar dry shampoo spray recipe.
Benefits of micellar water for hair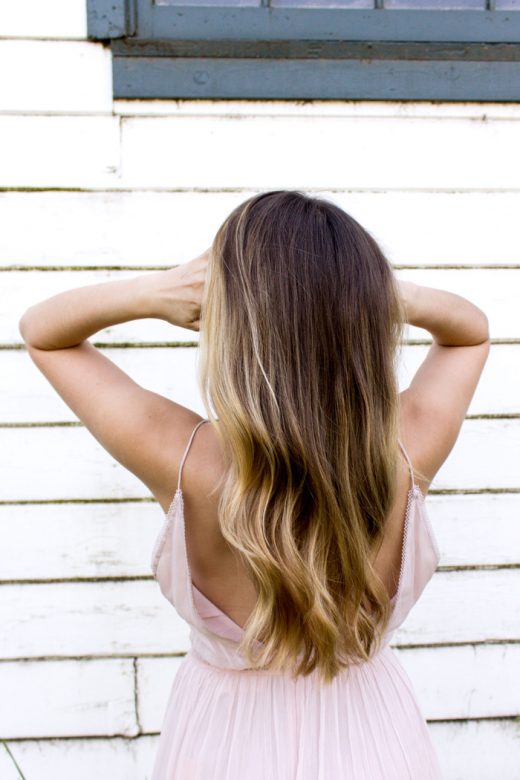 Micellar water is gentle.
Lathering up with shampoo, while necessary, is not great for hair health. All that sudsing and foaming tends to leave your tresses dry, especially with daily use.
But unlike shampoo, which frequently contains harsh surfactants, micellar water is very gentle. The micelles attract the dirt, sebum and product in your hair so that they can easily be rinsed away.
Over time, using micellar water in place of shampoo can reduce hair wear and tear.
Micellar water is clarifying.
Micellar water has the ability to cleanse really well without stripping. I find that it leaves my hair feeling like I've just used a store bought clarifying rinse, but without the dryness.
If you're worried that you'll leave the shower feeling greasy, don't be. Your three-days-old, post-hot-yoga hair is no match for the buildup-busting power of micellar water.
You don't need suds and foam to get your mane truly clean.
Micellar water is easy to use.
I'm not saying shampooing is an arduous process. But there's something to be said for having 30 extra seconds in the shower.
Instead of scrubbing and lathering, you just pour on your micellar water and let the micelles work their magic.
As someone who loves lazy beauty hacks, I fully appreciate how easy it is. Plus, this recipe contains peppermint essential oil, so it's nice to sit back and enjoy the refreshing tingle!
My DIY micellar water for hair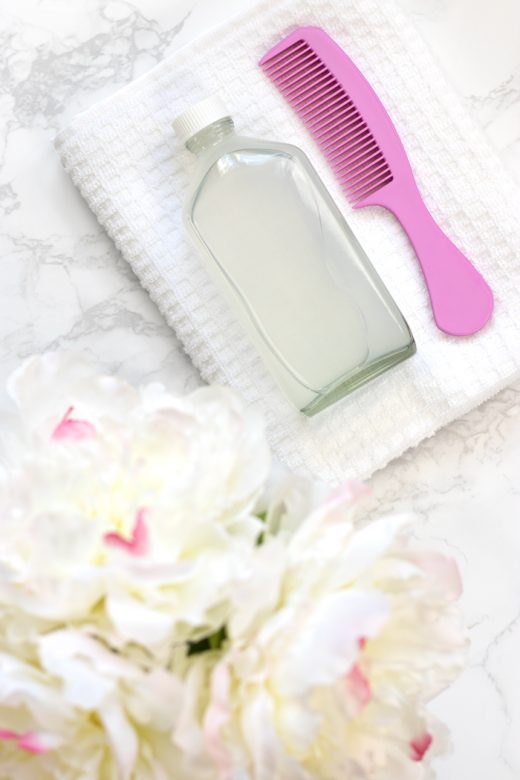 Like all my recipes, I formulated this micellar cleanser to be easy and accessible, with as few ingredients as possible. And as always, I only use ingredients that are natural, non-toxic and safe.
Most importantly, this recipe really works. To truly be micellar water, a solution needs to contain a solubilizer that forms micelles. In this case, the solubilizer is naturally-derived Poly Suga Mulse D9.
This recipe is also customizable. I chose to use a mixture of rosemary and peppermint essential oil for their hair growth-stimulating properties, but you can easily substitute your favourite oils.
And if you don't have any peppermint hydrosol or mint water, then plain, distilled water will suffice.
How to replace shampoo with micellar water
You can use this micellar cleanser just as you would use your favourite shampoo. Use it any time you wash your hair, or alternate with shampoo.
You can also use this micellar water as a gentle, clarifying rinse for when you hair feels a bit dull or lifeless.
The micellar water will absolutely get your hair clean. The only time it might not work as well as shampoo is if you've applied a pre-shampoo oil treatment such as coconut oil.
For those who wash their hair daily, it might not be practical to use the water every single time. The ingredients are relatively inexpensive, and purchasing them in bulk saves money, but there will be more of an upfront cost than using shampoo.
This recipe will make enough for 2 washes on average, but you may need less or more micellar water depending on the length and thickness of your hair.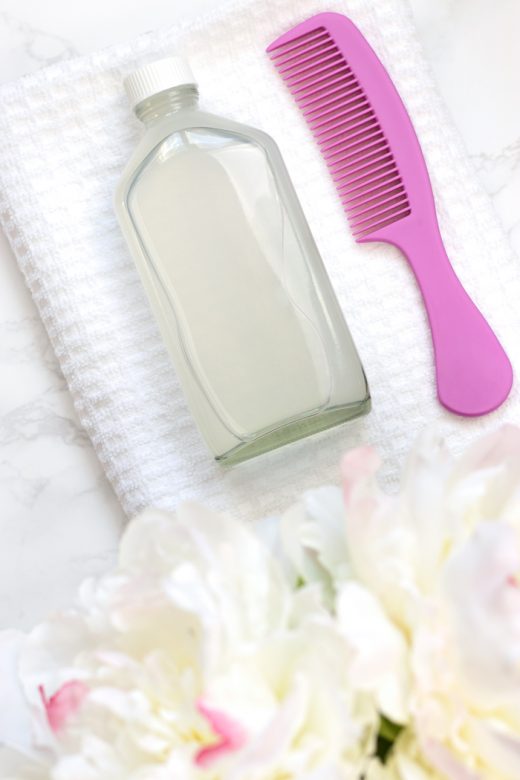 How to use this DIY micellar shampoo
To wash your hair with micellar water, start with dry hair. You can also use it on wet hair, but I find that starting with dry hair is more effective.
In the shower, tilt your head back and begin to pour the liquid over your scalp, taking care to avoid getting it in your eyes or on your face. A squeeze bottle with a narrow spout is useful, but not necessary.
Make sure to fully saturate your scalp. If you have silicone or product build-up, pour some micellar water directly onto the ends of your hair as well.
Then, either with your fingers, a shower-safe hairbrush, or a comb, gently massage the solution into your scalp. Leave it in your hair for at least 30 seconds before rinsing as usual.
Follow it up with your usual conditioner and the rest of your hair routine.
What if my hair doesn't feel clean?
Don't panic if your hair doesn't feel truly clean in the shower. This micellar water will cleanse your hair, but it won't give you the squeaky clean sensation of using shampoo.
Your hair may even feel slippery after rinsing. This is normal, and will subside after your hair dries.
If once your hair is dry you find that it's not completely clean, simply increase the amount of Poly Suga Mulse D9 by a 1/4 tsp or so.
It may take some trial and error to figure out the correct amount of solubilizer for your hair type, so refer to the recipe card for my notes on this. Personally, I use 3/4 tsp in my batch.
DIY micellar shampoo recipe ingredients
Poly Suga Mulse D9
Poly Suga Mulse D9 is a non-toxic, biodegradable, and extremely gentle surfactant. It contains the micelles that allow this DIY micellar water to gently wash away sebum and hair product build-up.
You may need to tweak the amount of Poly Suga Mulse D9 to suit your particular hair type, so refer to the recipe notes for my recommended amounts.
I purchased my Poly Suga Mulse from Formulator Sample Shop, which is the only place I've found it available for purchase. I'll update this post if it becomes available elsewhere.
Vodka
Vodka is a natural anti-bacterial and astringent.
If you're concerned about dryness you can replace it with more peppermint hydrosol. However, I find that the vegetable glycerin prevents the vodka from being drying.
Peppermint hydrosol and peppermint essential oil
Peppermint possesses cooling and analgesic properties that help soothe an itchy, sensitive scalp. It's also been shown to encourage hair growth.
Both peppermint hydrosol and peppermint essential oil give this micellar water a refreshing, cooling tingle.
Vegetable glycerin
Vegetable glycerin is an inexpensive and non-toxic byproduct of plant oils. It's a humectant that helps this DIY micellar cleansing water hydrate the hair.
Rosemary essential oil
Much like peppermint oil, rosemary essential oil stimulates circulation and hair growth. It has even been shown to protect against hair loss.
Rosemary oil's potent anti-fungal and antibacterial properties also help combat itching and dandruff.
Leucidal Liquid SF
Leucial Liquid SF is a probiotic-based preservative created by the fermentation of Lactobacillus bacteria. It's both effective and non-irritating to the skin and scalp.
Apple cider vinegar
A small amount of apple cider vinegar can be used in this micellar cleanser to lower its pH to about a 4.5-5, making it closer to the optimal pH level of our hair and scalp.
More micellar water recipes
I hope you'll enjoy this DIY micellar water for hair as much as I do. You can find the recipe in the card below. If you end up trying it, I'd love to hear from you in the comments.
And if you don't have time to DIY, I highly recommend inVitamin's micellar cleansing water, which makes a great "no-poo" replacement for shampoo that won't damage your hair like baking soda does.
If you enjoyed this recipe, you might also enjoy these other homemade beauty recipes that incorporate micellar water:
DIY Micellar Dry Shampoo Spray
Natural DIY Micellar Water with Witch Hazel
Makeup-Removing DIY Micellar Water Wipes
Plus, if you're interested in natural haircare, you might also enjoy the following articles:
Rose Petal Vinegar for Skin & Hair
How to pH-Balance Your Hair Care Routine for Stronger, Healthier Hair
Follow us on Pinterest for even more natural DIY beauty ideas! You can also find us on Instagram, Facebook and Twitter.
Pin it for later
Category: Hair Care at https://findtobeauty.com.