Before we talk about essential oils for hair growth, let's talk about the causes of thinning hair. Over 55 million men and women struggle with hair loss every day. And as we get older, our hair loss increases.
You are reading: Essential oil hair serum | 7 Essential Oils for Hair Growth + DIY Hair Growth Serum
However, age isn't the only factor that contributes to hair loss. In fact, many factors can affect hair growth and contribute to hair loss. Some of the most common ones include:  
Age
Health
Stress
Hormones
Diet
Medications
Genes
Hair Growth Treatments
There are so many over-the-counter treatments available to promote hair growth! Most of them include minoxidil, which only works as long as the treatment is being used. As soon as treatments stop, hair growth also stops, and the hair loss begins again.
However, did you know that there are natural treatment options available as well? It's true! In fact, there are a few essential oils that are considered beneficial in supporting hair growth.

Essential Oils for Hair Growth
Whether you're struggling with hair loss or you simply want to encourage hair growth, essential oils may be able to help! Let's take a look at some of the best ones.
1. Rosemary
Rosemary is considered one of the best essential oils for hair growth. It is beneficial for a number of issues, including dandruff, lice, greasy hair, and is even considered stimulating for the scalp. A study in mice treated with rosemary leaf extract showed a significant increase in hair growth [source].
Another study comparing the use of minoxidil and rosemary essential oil for hair loss found that individuals in both groups had a significant increase in hair count after 6 months and that there was no significant difference between the two groups [source]. This suggests that rosemary may be an effective natural alternative to minoxidil.
2. Lavender
Lavender is another essential oil commonly used for hair growth. Due to its versatility, this should come as no surprise! It helps support scalp health with its soothing and regenerating properties and is frequently used for irritation, dandruff, and lice. All of these are important to make sure and deal with when you're trying to promote hair growth.
Furthermore, a study conducted on mice treated with lavender essential oil showed that the mice had a significant increase in follicle count, follicle depth, and a thickened dermal layer after four weeks of treatment without any signs of toxic effects [source].
3. Peppermint
Peppermint essential oil is another great option to consider for a natural hair growth treatment. In fact, another study conducted in 2014 found that a 3% formulation of peppermint oil showed significant hair growth effects in mice. The research determined that it was actually the most effective formulation tested, even more so than minoxidil [source]!
Traditionally, peppermint oil has been used for digestive and respiratory issues, but due to its stimulating effects, it's considered beneficial for hair growth as well!
4. Chamomile
Chamomile is known for its gentle and soothing properties and is commonly used for reducing stress and anxiety. It's also beneficial for soothing irritated skin and a great option to consider when looking to support hair and scalp health. And with its delightful scent, it would be a wonderful addition to your natural hair care routine. 
5. Geranium
Geranium is another great option to consider for promoting hair growth. It's commonly used in skincare products because of its antimicrobial [source] and anti-inflammatory properties, as well as its balancing effects. However, it's also beneficial in supporting scalp health and hair growth [source].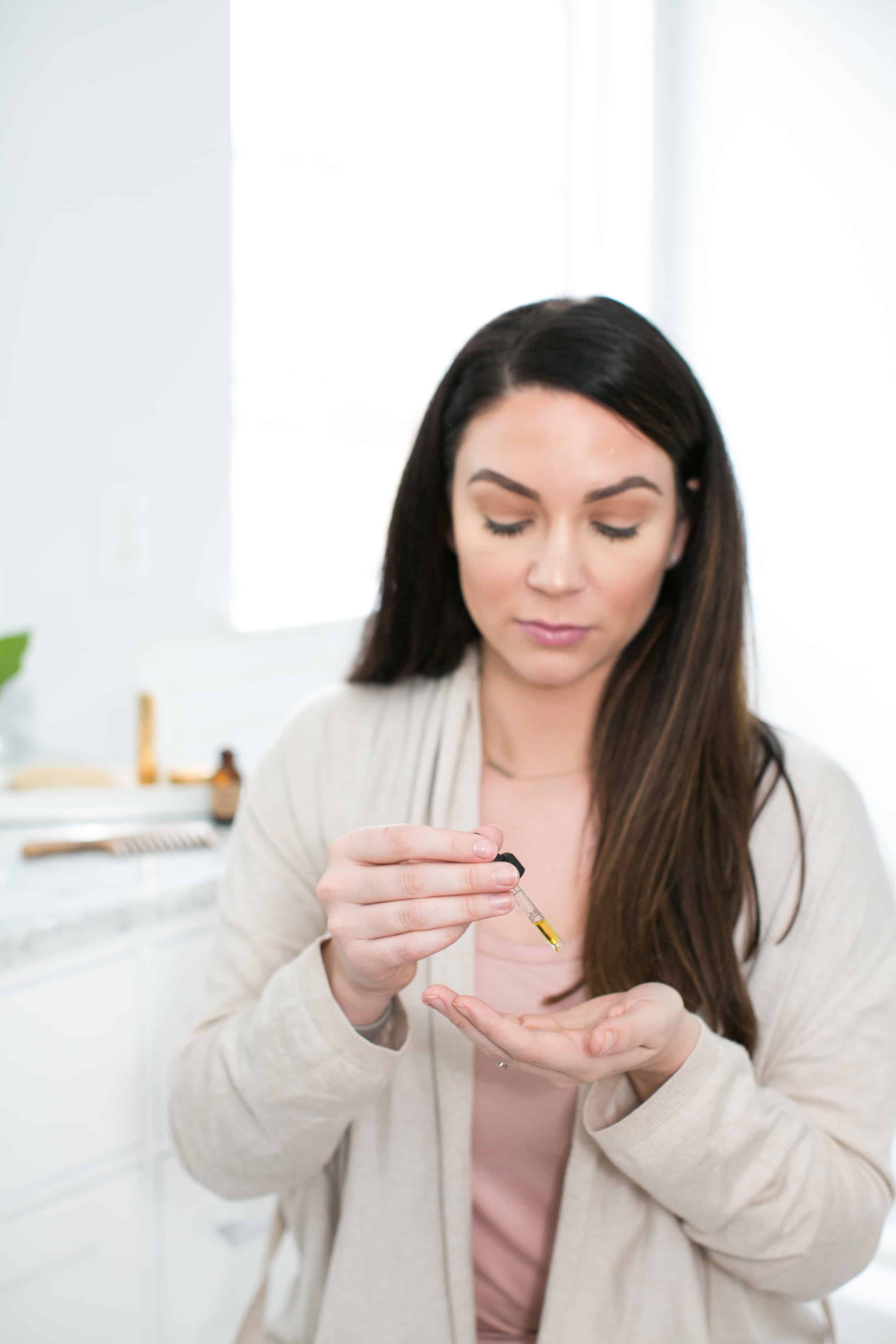 6. Cypress
Another essential oil that has been studied for its hair growth-promoting properties is Cypress. Apparently, it was added to hair care products initially for its antimicrobial effects. Then some consumers began to notice their hair was growing [source]!
Later studies in mice showed without a doubt this was the case. And, besides promoting hair growth, it also appears to reduce hair loss by increasing collagen production around the hair follicles [source].
7. Tea Tree
Hair growth can be directly affected by the health of the scalp. If the scalp isn't healthy, then hair growth may be restricted. Tea tree oil is beneficial in supporting scalp health. Because it has effective antimicrobial and anti-inflammatory properties, it is especially helpful when dealing with skin and scalp issues.
It's also commonly used as a treatment for lice. So, if hair growth has been restricted due to an unhealthy scalp, tea tree is a great option to consider.  
Carrier Oils for Hair Growth
Jojoba Oil
Although not an essential oil, jojoba oil is a carrier oil that is beneficial for hair growth. Not only is it moisturizing and full of antioxidants, but it's also considered useful for many different types of skin issues as well [source].
It's similar to human sebum, enabling it to help balance out the skin and scalp [source]. Additionally, It contains many vitamins and minerals, making it a great choice to support hair health. It is often used as a hair moisturizer and strengthener in hair preparations.  
Argan Oil
Argan is another carrier oil that's great for hair health. It's rich in fatty acids, and in particular, oleic acids, which are known for strengthening hair [source]. Because of its high antioxidant content [source], it is often used in luxury skincare products to reduce the appearance of aging, promote cell regeneration, moisturize the skin, and balance skin tone.
For hair care, it's specifically used to moisturize and condition and is a great way to treat split ends.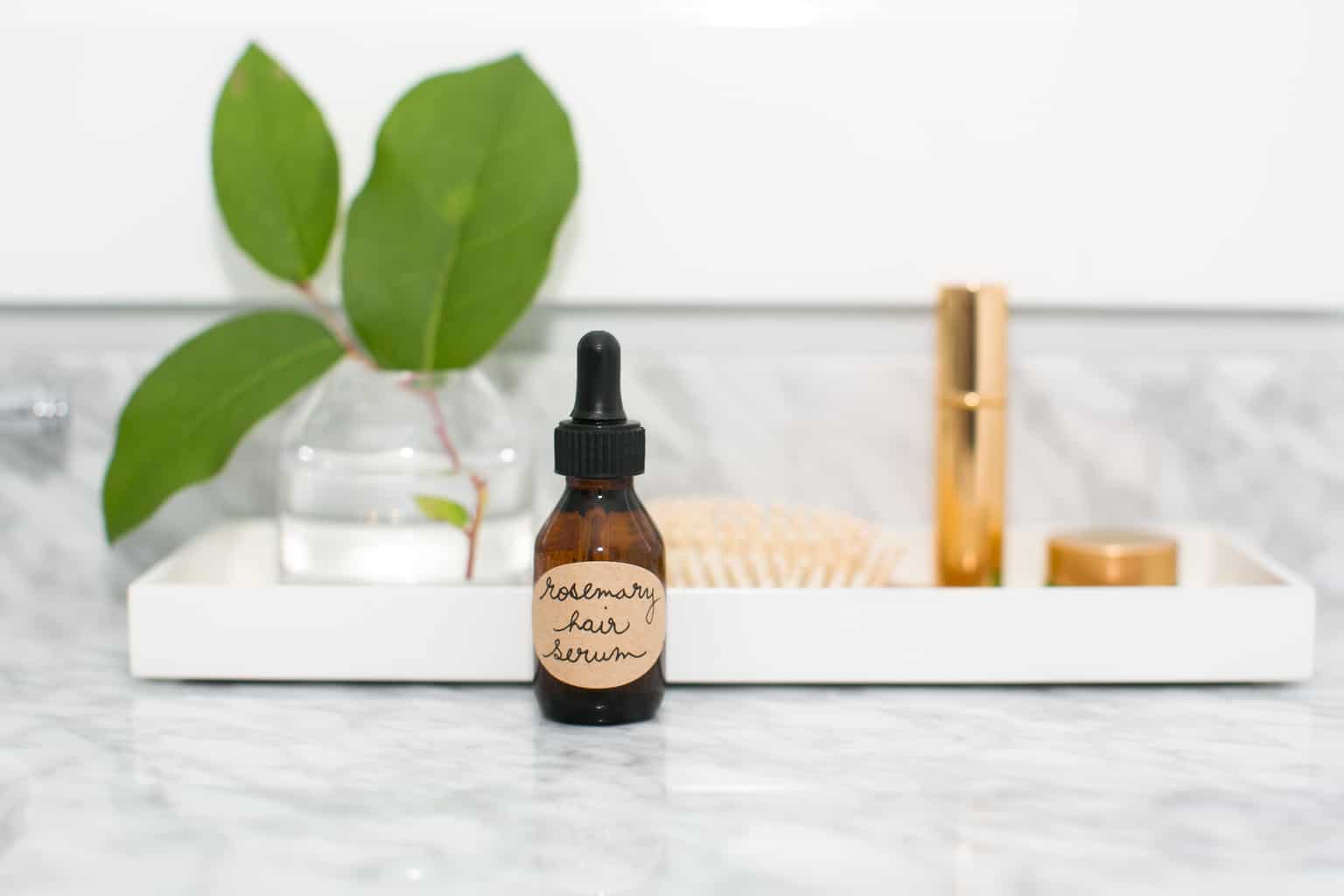 Hair Serum Recipe
Here's a simple hair growth serum recipe you can make at home.  Feel free to switch out the ingredients to suit your needs!
1 tablespoon jojoba oil
1 tablespoon argan oil
4 drops rosemary essential oil
5 drops lavender essential oil
2 drops peppermint essential oil
1 drop cypress essential oil
Combine all of the above ingredients in a 1-ounce dropper bottle and shake well. Massage a few drops into the scalp for 3–5 minutes and then let sit for 20 minutes. Leave in or shampoo and condition as needed.
To use as a conditioner, use 1–2 tablespoons and lightly coat the hair from roots to tips. Leave on for 20 minutes, and then shampoo and condition as usual.
More DIY Recipes for Hair Growth
How to Use Castor Oil for Hair Growth
Nourishing Rosemary Hair Serum
Apple Cider Vinegar Scalp Scrub
10 Homemade Hair Masks for Thinning Hair
615
Category: Hair Care at https://findtobeauty.com.